Hi there, FLT readers!  I've been crawling out from under my own birthday celebration, my business birthday, AND my blog's birthday, so we're honored to share a March birthday with Fancy Little Things!  My name is Heidi and I blog over at Decor & More and here on FLT on Thursdays.  I am an interior design and decor junkie and I love to share inspiration and ideas for the home.  I believe that making a house into a home is a journey and that your home decor should evolve over time as a true reflection of who you are.  I'm a faithful and flawed Christian, a devoted wife, mom and stepmom, a preschool teacher, and a Willow House Design Consultant.  If you think my life is busy, you're right!  If you think, it's full, you're right again.  And if you think it's wonderful — bingo!
I'm thrilled to be your For the Home author here at Fancy Little Things!  So I thought I'd share some of my favorite things so we can get to know each other better…
My first favorite thing is this brood…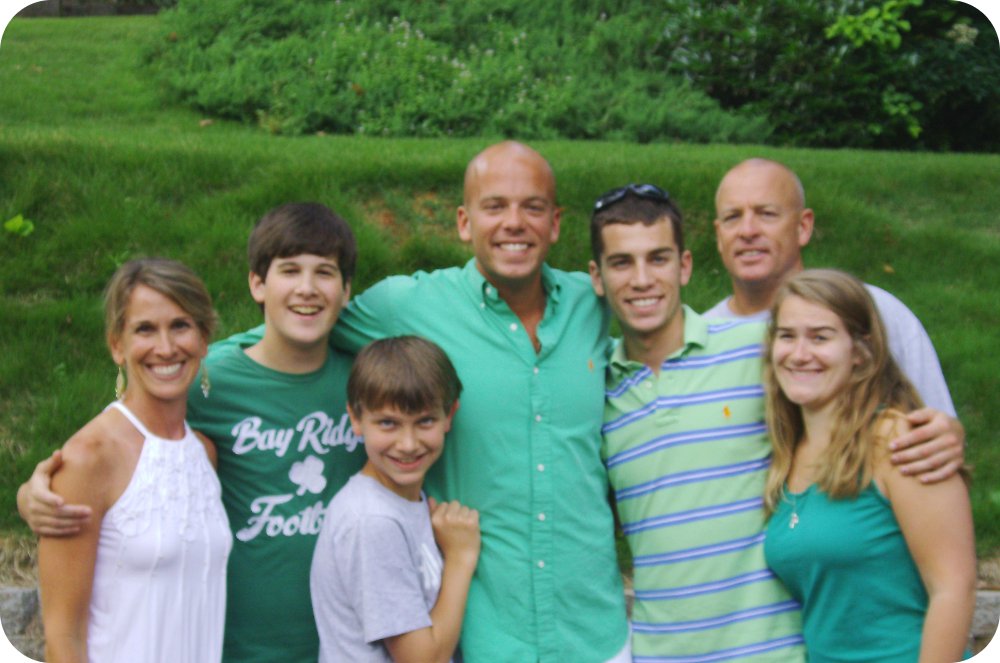 This is US!  Taken almost two years ago, but you can't imagine how hard it is now to get us all together– and then get a photo.  Do we look like a happy bunch?  My six most favorite peeps in the whole world.  Side note:  my youngest is now two inches TALLER than me.  Yikes.
My second favorite thing…
Yep, I'm a beach lover.  I just took this one a couple of weeks ago when the hubs and I escaped for a few days.  I grew up in land-locked Texas and now I crave being near the water.  It's healing, soothing, and I always feel my own "smallness" there.  It's a place where God's beauty truly envelopes you.  Can you hear the waves??
My third favorite thing…
I adore Mexican food — I could eat it for breakfast, lunch, and dinner.  Seriously.  I never get tired of it.  Our family has a standing weeknight date for Mexican food.  Yummy and budget-friendly!
Fourth: Collections in decor…
Collections just speak to me… they speak of evolving over time, of the collector's passions and aesthetic, and sometimes history.  Those layers of meaning that make a house a home, in other words.  Check out my post on collection display inspiration.
My fifth favorite thing to share here…
One Thousand Gifts by Ann Voskamp.  This book is a life-changer.  I first read it a little over a year ago and I've gone back to it over and over again.  Every page is rich with observations and hard questions, insight and mystery, and the wonder of God's glory in our everyday lives.  This is my go-to gift for women (especially) that I cherish.  And the blessings continue to accumulate in the giving and receiving of this book.  A must-read for every Christian mom and wife.  For Christians everywhere.
Now, enough about me ~ how about my favorite things here at Fancy Little Things?
Hands down, my favorite series of posts came during November, when FLT was celebrating Giving Thanks.  I was honored to do a guest post, but I can't put into words how this series illuminated the true character of the wonderful women that contribute here.  Click back into our archives and check out one or two… you will be blessed in doing so.
I hope you'll enjoy my Thursday musings here and then join me at Decor & More for more inspiration for your home.  I even throw in snippets of what life is like with 2 teens, a college freshman, and 2 young men that occasionally boomerang home — you wouldn't believe some of the shenanigans that go on!
Now your turn — what are a few of YOUR favorite things??
Blessings to you!
© 2012 – 2020, Heidi Milton. All rights reserved. Love it? Please share, pin, tweet or email but do not use my work without permission.