My husband hurt his back about 3 weeks ago. As he is in a "lifting" profession, he can no longer work.
We thought he'd heal quickly, but that is not the case.  I won't bore you with the details, but frankly, there will be no income from him at all for a while.
And we've never been more excited. (Really!)
This is when God gets to show up. Big time. (Yippie!!! Every time He shows up in a way that is very clear for me, it has been so rewarding. BRING IT ON!!!)
Consider it pure joy, my brothers, whenever you face trials of many kinds... James 1:2 NIV
Don't get me wrong. I am a planner. I am convinced that I was the original prototype for what we all know now as the "Type A" personality. This little setback was not in my "grand plan." I struggled for a day or two to rejoice in this news.
However, we are both convinced that this is a huge blessing for us. It's pretty easy to trust in God when things are going well: The bills are all being paid. Family is healthy. Life is good. Sure, I'll trust God. Why not?
Trust in the lord with all your heart and lean not on your own understanding… Proverbs 3:5 NIV
But now, we get to put our "money where our mouth is." And we rejoice in it. (So don't cry for me, Argentina.)  Before you think I'm a martyr, don't get me wrong–it's a bummer. I may have to work more, something that does not thrill me. But I have hope. Faith. Trust. I am convinced that this will be a story of victory for us and a story of glory for God. I will let God work out the the subplots of the story–the twists, turns, and the exciting conclusion. He's a much better Writer than I.
Praise be to the God and Father of our Lord Jesus Christ, the Father of compassion and the God of all comfort, who comforts us in all our troubles, so that we can comfort those in any trouble with the comfort we ourselves have received from God.  2 Corinthians 1:3-4 NIV (I am so excited about this one!  Use me to give comfort to others, God!)
So, I will rejoice.  How, you ask?  I am so glad that you did!
~ I will be honest about our situation, but I am going to use it to uplift instead of discourage.
~ We will continue to tithe (even though now is when it becomes the most challenging and the most "justified" to stop tithing).
~ I will build my husband up and help him to heal physically and emotionally.
~ I will pray instead of worry. (Good ol' Phil 4:6.  One of the first verses I commited to memory.  Good thing, too…I call on it oodles and oodles!)
~ I will be an example of grace under pressure. (I say this to convince myself, not to impress you, dear reader!)
~ I will give Him the glory for getting us through this, as He always has in the past and will do again this time.
I will rejoice!
Be joyful always; pray continually; give thanks in all circumstances, for this is God's will for you in Christ Jesus.  1 Thessalonians 5:16-18 NIV
P.S.  I love the song Blue Sky by Francesca Battistelli (video clip at the top of this post).   Whenever I am feeling a bit down, this song helps turn my thoughts into joyful ones again!  If you have never heard it, it is so worth a listen!
Thought for this week:  what opportunities to glorify Him do you have in your life right now that might be disguised as hardships?   Have you decided to consider them pure joy yet?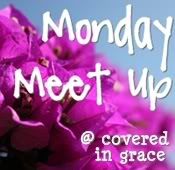 © 2012 – 2014, A Sweet Guest. All rights reserved. Love it? Please share, pin, tweet or email but do not use my work without permission.