I'm not messing around with just an entree tonight.  You guys are getting sides.  TWO SIDES.
Game on.
Things I love about this Stuffed Shells recipe:
1. There is something green in it.  And not just any green food, but arguably the most iron/fiber/vitamin/mineral packed superfood ever.  Between the spinach and the marinara sauce I rationalize that it's TOTALLY okay not to cook a separate vegetable.
2. My kids love it EVEN THOUGH is has a green something in it.  And all the mothers of all the picky eaters said "Glory, hallelujah, amen."
3. It makes lots of leftovers which freeze great.  I stash this one in my freezer before the birth of every baby.
4. It's warm.  And gooey.  There is mozzarella involved.  I have a love affair with mozzarella.
5. It's an easy meal to class up.  If you hate cooking, but like entertaining, this is a nice easy meal to serve.  People like it and it's pretty.
So without further ado, Spinach Stuffed Shells!
THE SHELLS
Here's what you'll need:
1 pack frozen chopped spinach
1 box jumbo shells
1 8 oz. bag of mozzarella
1 15 oz. container of ricotta
1/2 c. parmesan
1 tsp. salt
2 eggs

And that's it, yo!
(Actually, I add a couple dashes of basil and a little scoop of minced garlic because it makes me feel like I know what I'm doing.  Totally optional.  I say bust 'em out if you're feeling gourmet.)
Step 1: Get things started.  Preheat your oven to 350, put a big pot of water on the stove to get boiling, and flop your spinach in the microwave for a minute or two to thaw.
(If you add a bit of olive oil to your water, the shells won't stick together.)  
Step 2: Dump all the cheeses into a big bowl.  (Here's where I add my garlic & basil.  I don't measure; my rule of thumb is "just enough to make a difference.")   Beat your eggs and pour those in too, with the salt.
Step 3: Mix it up!  I use my hands because they are absolutely the best tool (and because who wants to wash more spoons), but if you're weird about food-touching it's cool.  Use whatever.  I set towels on fire – who am I to judge someone for their kitchen preferences?
Step 4: Add your shells to the water.
Step 5: Drain your spinach; you want it to be nice and dry.  Again, I use my hands.  There's a towel trick, where you load it all into a dish towel and ring it out,  but after using this "short cut" several times, I found it didn't save me any time at all.  I had to line up all the spinach, ring it out, and pick the dried stuff off my towel – all 2 or 3 times in order to do the whole box.  Plus it left me with a dirty towel.  So back to the trusty hands for me.
Add the spinach to your cheese bowl and mix it all again.
Step 6: Drain your shells and rinse them with cold water.  Rinsing stops the cooking so they don't get mushy (and tear), it keeps them from sticking to each other, plus it makes them easier to handle.
Step 7: Set yourself up a nice little assembly line and stuff them shells!  I put about yea much inside:
I don't fill it up enough for the stuffing to show.  There is always more stuffing than shells, so if you over-stuff them, your plate will be mostly cheese with the occasional noodle. Plus you'll run out of stuffing before you use up all your shells.
Add your shells, seam-side up, to a baking dish with just enough marinara to coat the bottom.  When it's filled up, dump a bunch more marinara on top.  Don't be shy about it; you'll want lots of warm sauce to top your shells.
(When my baking dish gets full, I just fill up a freezer bag and keep the rest for a rainy day.  Look how many meals you get out of this!  My husband eats 4-6 shells each time; I eat 3-4; the kids eat 1-2 each.)
Step 8: Tinfoil and bake for 30 minutes, or until the sauce gets nice and bubbly!  If you want to make it look pretty, dust the top with Parmesan before serving. 🙂
You guys, DI-VINE.  I'm writing this moments after eating it myself, and they were fabulous tonight.  I'm pretty sure that's not just the "pregnant" talking.
And, as promised, a simple Caesar salad and Parmesan toast as sides!
THE SALAD
A word about the Caesar salad:  For a long time I did not believe in Caesar salad at home.  I ordered it at restaurants, but every time I made it for myself something was … blah.  Until a friend of mine who loves food came over and made Dan and I the best Caesar salad ever.  And do you know what his secret was?  HE MADE A TRUE CAESAR SALAD.  I'd been using spring greens or green leaf lettuce because it's what I had in the house.  Or using just lettuce and dressing because it's all I had in the house.  And as it turns out, in order to get something right, following the recipe is a good place to start.  Now I have Caesar salads at home all the time and they are the bomb.  Know why?  Because I use romaine lettuce, cheese, and croutons.
For the salad you'll need:
Romaine lettuce
Caesar dressing (the brand TOTALLY matters)
Italian blend cheese
Croutons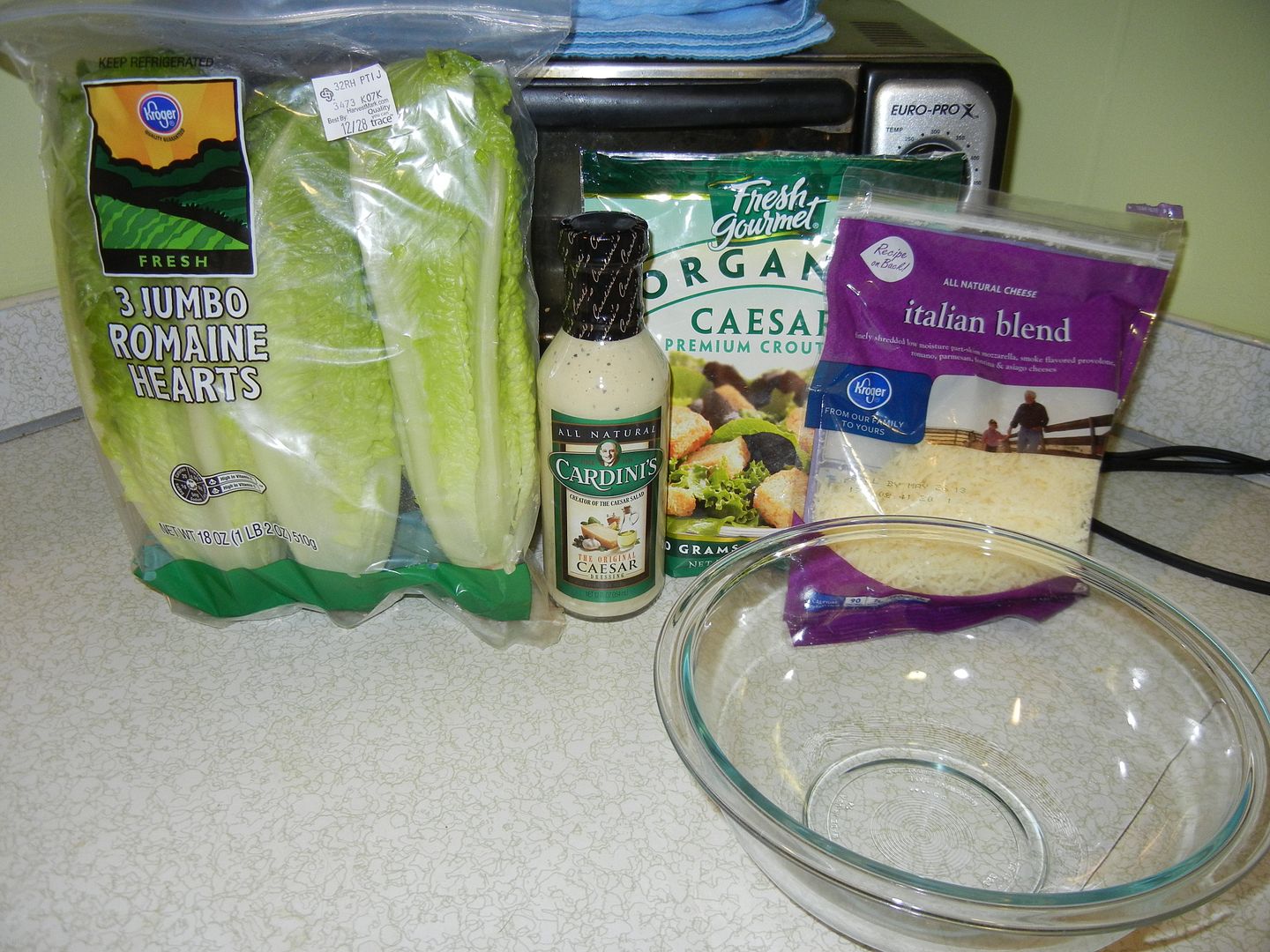 Just chop up your lettuce like so:
Dress it liberally and toss it up with a fork.
Add the cheese on top and toss again.
Add the croutons and serve with your shells!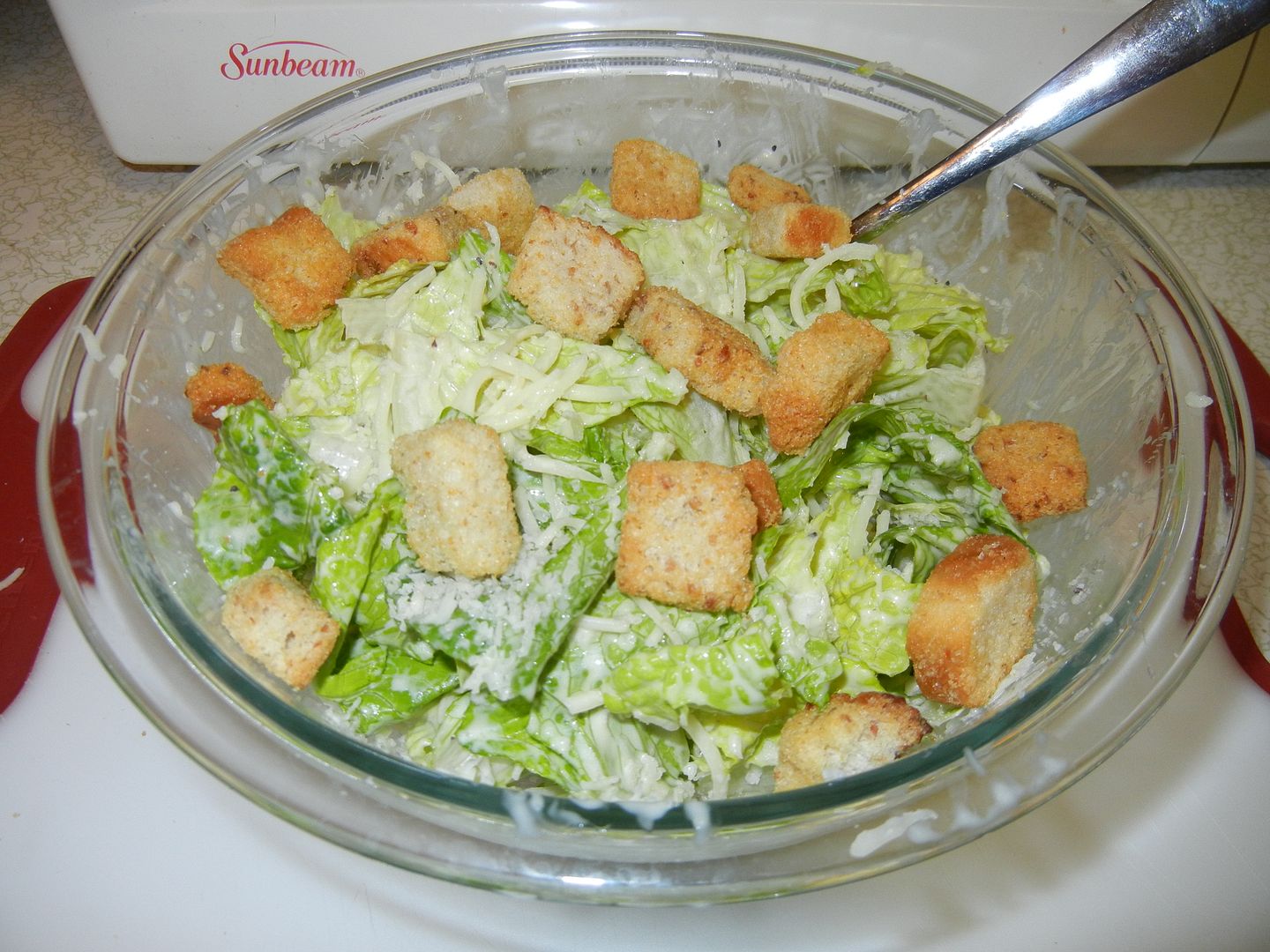 THE TOAST
The Parmesan toast is a sneaky little trick of mine.  The secret is:
Presentation is everything.
If you have garlic bread in the house, or Texas Toast, or a baguette, use those.  But I don't keep that stuff in the house, and if I'm whipping up a last-minute meal or reheating the leftovers, heck if I'm running to the store with two kids during rush hour to get bread.
Enter: Parmesan toast.
You'll need:
Sandwich bread
Butter
Garlic Powder
Parmesan

You just butter the bread, sprinkle the garlic powder liberally, top with Parmesan (pat it down a little to get it to stick the the butter) and flop it in the toaster oven!
I like to get mine pretty dark so they're nice and crunchy and the cheese gets all broiled.
I cut mine into fourths (presentation is everything!) and add them to the plate with the shells and salad.   Perfect little puppies for mopping up extra sauce.  So cute!  So fast!  And from SANDWICH BREAD.
So that's it!  If you choose to serve all three dishes together as a meal, it might look something like this.
DISH COUNT:
Pot-stuff: 1 pasta pot, 1 collendar, 1 mixing bowl, 1 salad bowl, and 1 baking dish.
Dish-stuff: 1 spinach-thawing bowl and 1 egg-beating bowl.
Silverware-stuff: 1 measuring cup, 1 pasta spoon, 1 lettuce knife, 1 whisk, 1 toast-buttering knife.
Plus however many plates, cups, and forks your family will use.
None of these will require scrubbing.  All can be rinsed and thrown in the dishwasher, and all of them will fit in one load.  WINNING.
There you have it, folks.  A warm, mozzarella-y meal complete with a superfood, sides, and approved by kids and a mom who hates cooking.  Now go wow them for supper.
© 2012 – 2014, a sweet guest. All rights reserved. Love it? Please share, pin, tweet or email but do not use my work without permission.