Today you get to meet 2 amazing, women-owned businesses that hang out in our Small Business Directory! We can't wait to for you to get to know them a little bit more today and be sure to stop by & visit their amazing shops!!
<<<    >>>
Meet Sara from Sweet Home Treasures
A little bit about Sara: She is a proud Coastie wife and a homeschooling mom to 3 rambunctious girls.  She was born and raised in Southern California and last month they were able to transfer back home!  Sweet Home Treasures is both her ministry and creative outlet.  Sara love reading scripture and having it nearby, and scripture jars were a natural result of that love!  She thanks the Lord every day for the doors He's opened for her shop, including this feature on Fancy Little Things!
Why she started her business: She is constantly asking the Lord for wisdom and direction in raising her little ones to be confident and loving followers of Christ.  As Christian parents, what more can we ask for?  With that goal in mind, she started memorizing Proverbs with her girls last year. There is nothing sweeter than hearing young voices speak God's Word.  And, of course, listening to them process the meaning of each scripture has been priceless.  They've had talks about God's faithful presence (Proverbs 15:3), making good decisions (Proverbs 14:15), and the importance of being on God's side (Proverbs 21:31).  She really can't overemphasize what a blessing this new family tradition has been to them!  It's never too early (or late!) to start!
The Proverbs Jar was born pretty quickly into our new habit.  Friends and family would always ask
about it when they dropped by and, after much prayer and encouragement, she took a leap of faith and opened up shop on Etsy!  As only our Lord can do, what started as a simple family activity has turned into an incredible ministry in sharing the Lord's Word.  Proverbs Jars have made their way to a dozen states and three different continents!!  She is continually humbled and blessed by the shop's success, and she can't wait to see what God has planned for it in 2013!!
Her favorite products from her shop: Her husband will tell you that her favorite scripture jar is whichever one she just finished creating 🙂  And that's very true!  She is always partial to anything with sparkles (like the Heavenly Roses collection). Right now on their kitchen table they have one of her patriotic jars filled with edifying Proverbs.  Her husband is getting ready to deploy overseas in a couple months, so that has her feeling even more patriotic (and scripture-hungry) than usual.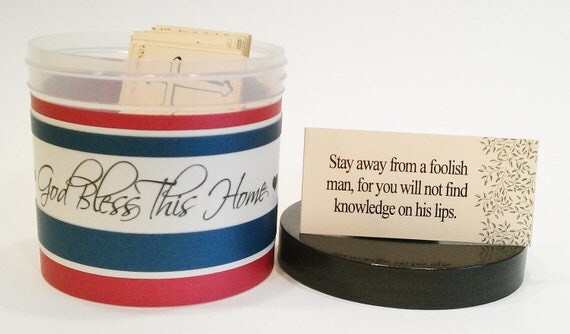 She recently completed a bible study on what the Lord has to say about Love and Relationships.  Particularly this time of year, its easy to get caught up in how the world defines "love", and as Christians we should always be looking upward for truth and perspective.  This scripture card set contains 48 verses of God's Word on True Love…it's not a feeling, it's an action!  The set would make a wonderful gift for engagements, weddings, anniversaries and, yes, belated Valentine's Day 🙂  It can be purchased alone (printed or digital) or with one of her jars.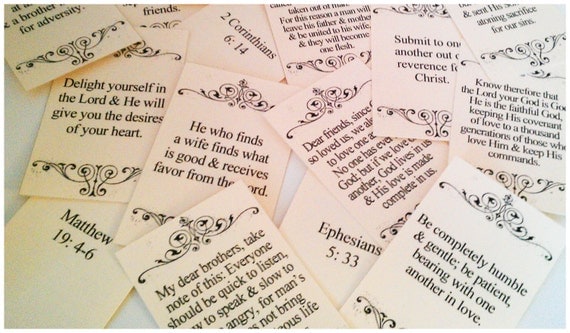 ———
Meet Latoya from Latoya Monique Designs
A little about Latoya: She always created something.  Whether it was coming up with crazy songs with her best friend, or writing her "own" movies, and even pretending to have her own radio show, she has always created. Her love for design fell into place shortly after undergrad when she began taking on diy projects for her wedding.  I designed her own invites, programs, and other stuff for her big day. After having her daughter and moving into their home she started blogging and the desire to create things lit up intensely.  Little did she know that God was calling me to a path that would lead me to create "artful reminders of His promises" and to also share "written reminders of His promises" on her blog. After experimenting with different designs on her blog and creating several art prints she decided to go into business.  Latoya Monique Designs was born.
Why she started her business: She gets bored too easily and one thing she doesn't get bored with is pecking away on that keyboard.  She has dibbled in administrative duties and other type of computer work and it left her unfulfilled but when she started creating things she really just got into it.  She started my business because God called her to it and that's just all there is to it.  When you're given a gift you either use it or lose it.  She doesn't want to be at the end of her journey and know that I didn't do all that God has called me to do.
Her favorite product from her shop: Hands down she would have to say scripture art.  Of course she loves making blogs pretty but when it comes to the Word of God that gets her every time.  She is beyond humbled that God decided to give me the gift of creating artful reminders of His Word.  She is just as humbled by the fact that people like it.
Are you interested in joining the Fancy Little Thing's Directory? We offer listings for both bloggers & small businesses.
© 2013 – 2014, A Sweet Guest. All rights reserved. Love it? Please share, pin, tweet or email but do not use my work without permission.