There's something about a cork.  I always figure there's a story, an event, occasion, a conversation behind that cork.  My husband and I began collecting our corks years ago.  Most of them have a date, an occasion, a funny quote written on them in black sharpie.  Some were just saved because they looked cool.  Over time  I started thinking I would love to do a project with all of these mementos… and then, of course, there's the green factor.
Not only is it green to reuse and repurpose, but cork is one of those natural elements that's popping up more and more in homes.  Cork flooring?  Who'd have thought!!
About a year ago, I scanned this photo from Cottage Style magazine.  How awesome is that cork treatment to the wall of a kitchen desk area?
I was thinking this would be perfect for my cork collection in this space in my kitchen…
Aren't y'all the lucky ones, seeing the good, bad, and ugly in my home?  This was mid-paint-job back in April, but I wanted to document the "before" in case I ever got around to "corking" this awkward little wall space. 🙂   Try to ignore the piles in my home office on the right and the umpteen jackets and sweatshirts on the hooks to the left.  Focus on the crazy little overworked space… it's where we plug in the fax machine when we need it (several times a week since hubs works from home) and where phones/ipods, etc end up being charged up.  This little space is a critical piece of real estate in my busy kitchen.  I hope I can share an "after" with you at some point, since I've been thinking and rethinking this project for a year now. 🙂
Then a couple of weeks ago, I saw these magical images on Pinterest…
Um, hello? Now THAT's what I'm talking about! I love the texture this adds to the backsplash, not to mention its functionality.
Or what about this project?
I totally want to try this one out!!
And I've done this easy decorative accent several times using glass vases, hurricanes, and even a glass ice bucket. Beautiful, isn't it?
And I want to try this project out… notice how she's used bits and pieces of all types of corks.
And now, one of my favorites…
What a great gift these herb markers would make!!
Ah, the ever growing "I-wanna-do" list that has to take a back seat to the actual "to do" list. 🙂
For now, I'm just collecting and displaying our corks around the house like this…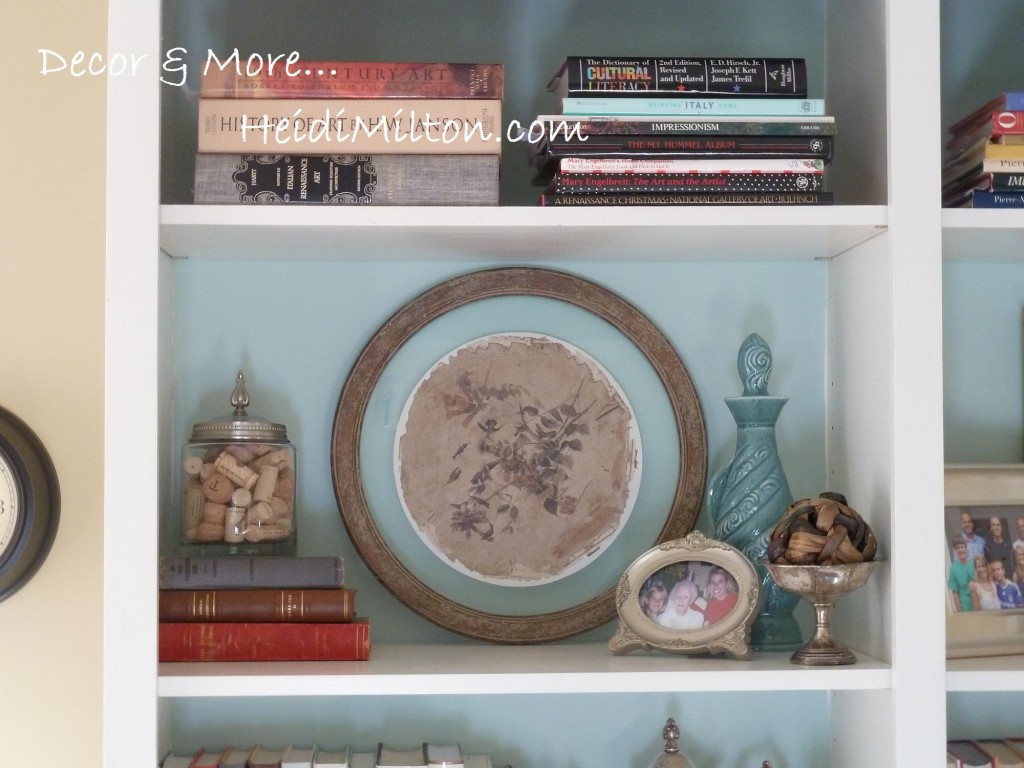 These are my family room shelves… I feel so much better now that I've shown you an orderly display in my home. 🙂
If I actually want to accomplish all of these projects, I'd better enlist the help of friends and family in saving corks.  Don't you think? 🙂
I'm highlighting Willow House gift ideas over at Decor & More… pop over and take a peek!
© 2012 – 2020, Heidi Milton. All rights reserved. Love it? Please share, pin, tweet or email but do not use my work without permission.